Share Your Screen with Local Devices Offline
Experience fast and secure screen sharing both offline and on the go. Offering seamless experience to share your screen with others, anytime and anywhere!
Offline
No internet connection needed, ScreenTask works best with local networks over WiFi or Cable.
Portable
No installation required, the server app is a single executable file, clients can connect from any Web Browser.
Unlimited
No soft or hard limits on any feature, your server hardware and the network capacity are the only limits.
Free
Completely FREE! and always will be, Since 2015 and still counting.
Secure
Protect your sessions with password, so only certain viewers can your screen.
Configurable
All configurations are stored in a simple JSON file, Imagine the possibilities!
Share your screen with local devices offline
Select the screen to be shared, network interface, port, image quality, and screenshot interval.
Optionally make the sharing private with a username and password.
Viewers can access the screen from any web browser via IP and port
Server can start automatically in the system tray when the app is opened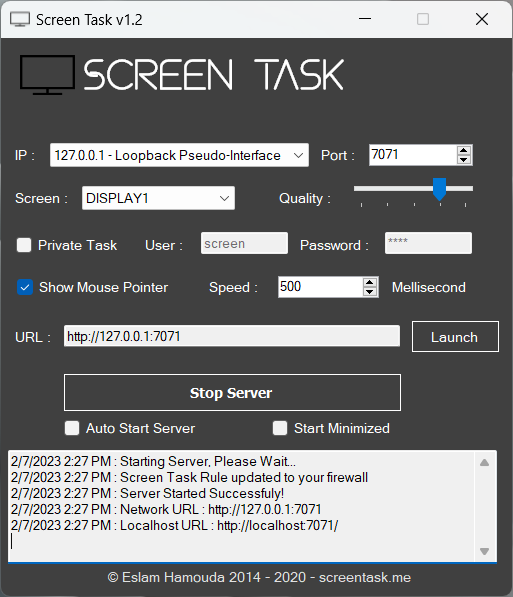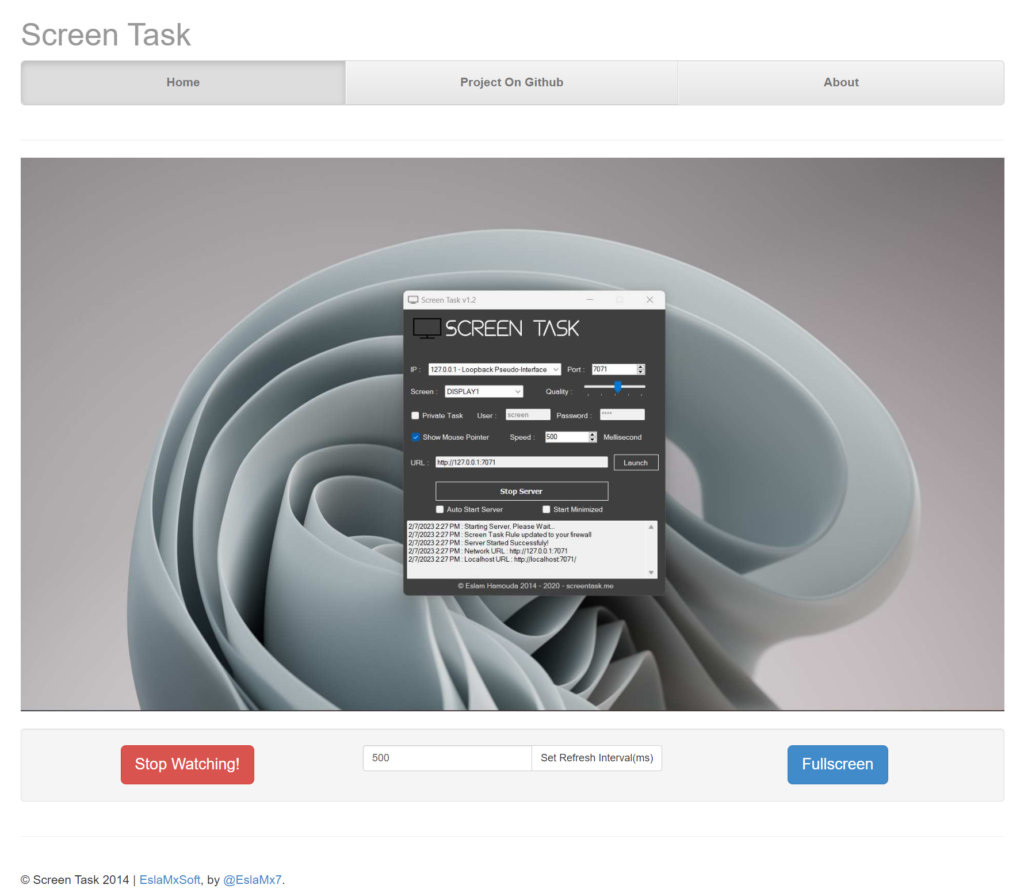 Access the screen from any Web browser
Viewers can access the screen from any web browser via IP and port, using the link provided in the URL field.
---
What users are saying…
⭐️⭐️⭐️⭐️⭐️

I recently discovered ScreenTask and I'm so happy I did! It's been a great way to share my screen with teammates and clients alike. The video quality is always top notch. Highly recommend!

Jess Brown
⭐️⭐️⭐️⭐️⭐️

I've been using ScreenTask for 3 years now and it's been a great experience. The setup was quick and easy, and the quality of the screen sharing is really good. Perfect App!

Shane Warne
⭐️⭐️⭐️⭐️⭐️

ScreenTask has been a lifesaver for our team. We're able to quickly and easily share our screens and collaborate on projects in real-time. The app is intuitive and easy to use.

Sam Jones
Ready to get started?
Click the button below to Download the latest version